Our Naughti Emcee for the weekend…Charlotte Sumtimes
"Show Me" Charlotte Sumtimes is entering her 8th year in the burlesque industry as a show host, performer, and producer. She is currently the lead emcee at The Boom Boom Room, show host at Taha'a Twisted Tiki in the Grove, and producer, emcee, performer of Bawdy Brunch burlesque and drag show at Helium Comedy Club in the St. Louis Galleria. Known for her improv comedic hosting style, and outrageous costumes, it's obvious when on stage that Charlotte lives to entertain a crowd. This is her 4th time returning to Naughti Gras, second year as emcee.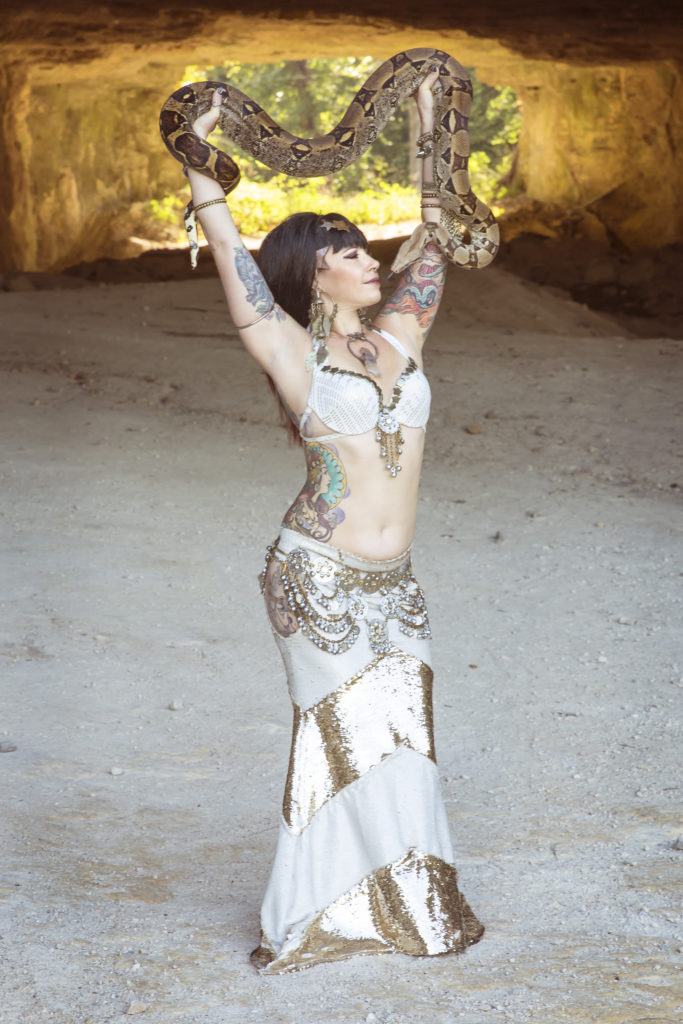 Ami Amore' is a lifelong artist and performer. Starting with drawing, painting, fashion, B&W photography and finally, her discovery of bellydance in 1999. Ami has a wide list of accomplishments, but is most proud of her drive to make her many passions a sustaining career. With years of hard work and determination, she currently boasts 2 dance troupes – Exotic Rhythms (started 2006) and Mosaic (in 2012), teaching several classes per week, being a sought after performer, choreographer, yoga instructor, workshop presenter and a successful show producer and event host. Not to mention, having her own jewelry line and now doing printmaking and painting under her brand, Amorticious.
Read more about me here: http://www.amiamore.com
Lucy has been dancing in one form or another for most of her life, starting with ballet classes at age 3. Continuing through high school, these classes were her only foray into dance until college, where she discovered swing dancing and ballroom dancing and experimented with modern and hip hop as well. After four years of competitive ballroom, she taught ballroom dancing in Chicago area. Upon returning to her hometown of St. Louis in 2012, she started taking classes with Ami Amore and joined the ERBD troupe in 2014.
Brian Lynch, "Orion", is a contemporary dancer, aerialist, and pole artist. While studying dance and choreography in college, he competes pole regionally, nationally, and internationally, claiming 3rd and "People's Choice" at the 2018 North American Elite Pole Competition, and regionally holds the title of 2018 Men's Professional Gateway Pole Champion. Also trained in Silks, Lyra, and Rope, Orion revels in the burlesque aesthetics, both on and off the floor, and cant wait to share his unique exotic style at this year's Naughti Gras!
Zephyrina is a dynamic circus and variety artist who first appeared on St. Louis stages flying through the air on lyra and trapeze, and has recently added a series of daring and flashy tightrope acts to her repertoire, as well as duo acrobatic routines. When she lets her feet touch the ground, she can also be seen performing anything from belly dance, to burlesque, to bottle walking! You never know quite what she'll do next, but it's sure to be splashed with her signature brand of sultry, vaudevillian flair and creativity.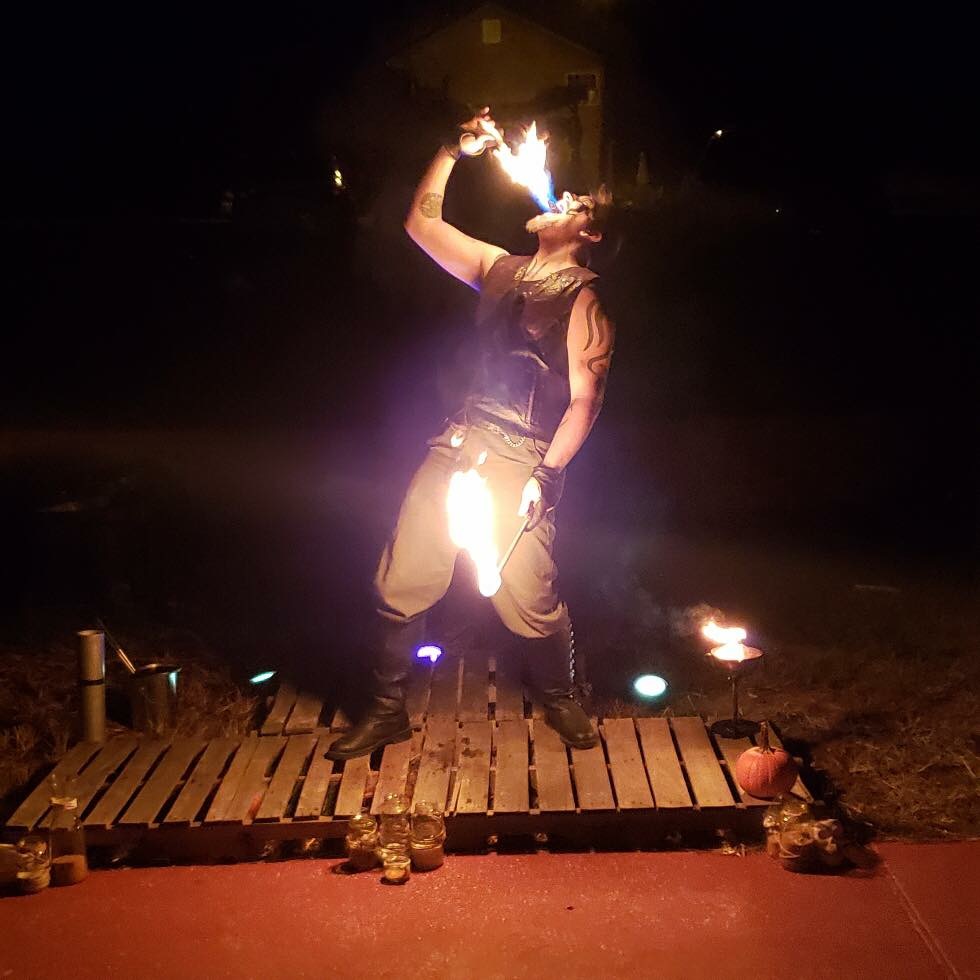 Lucien Storm has been performing fire for over 6 years, with an established reputation of excellence, professionalism, and leadership in the fire community. He currently leads the Hidden Flame fire troupe, based in Ferguson, MO, which can be booked through Facebook, their website, or gigsalad.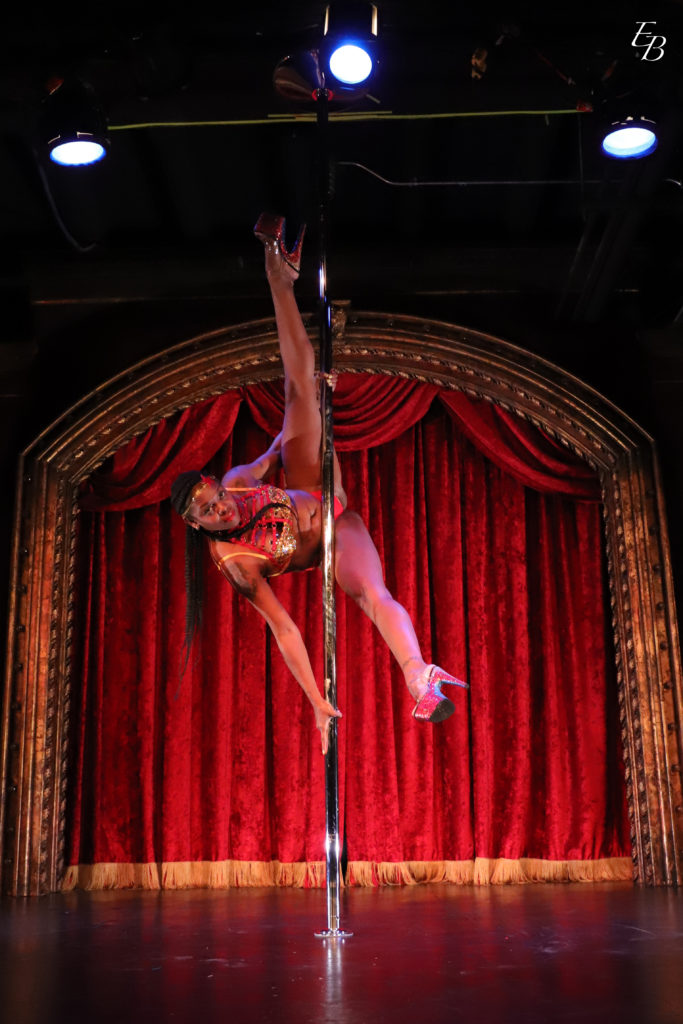 Dark Angel is a wife, mother and grandmother who loves showing that you can be both strong and sexy no matter your age or walk of life. With the love of pole dance in her heart she spreads the joy by instructing classes and pole parties. Dark Angel has performed in the Michelle Mynx Acrobatic Pole Dance Extravaganza every year since 2009 other show performances include, Jeezy's Juke Joint a Black Burlesque Review, Pole Kisses, Pole Through, Show Me Burlesque Festival, Speak To Me, Vertical Desires, Wildside a Bad ass pole show in Chicago.
This singing, dancing, stripping sensation, known as Dolly Mama, has performed around the country as a proud member of the acclaimed burlesque troupe The Bon-Bons, as well as half of the comedic burlesque duo The Dreamsicles. She's had the distinct honor of performing solo and with her troupes in the 2019 Shimmy Showdown, Missouri Burlypicks 2018, Show-Me Burlesque and Vaudeville Festival, Kansas City Burlesque Festival, The Oklahoma City Burlesque Festival, Colorado Burlesque Festival, Spectaculaire!, and The Beggar's Carnivale. Her naughty wit and coquettish charm will make you say "amen!" This Guru of Grind is the answer to all your prayers! In addition to performing, she produces and hosts several monthly shows, including "The Bon-Bon's Boudoir: An Intimate Cabaret" and "Burlyeoke: You sing, we strip!" at The Monocle.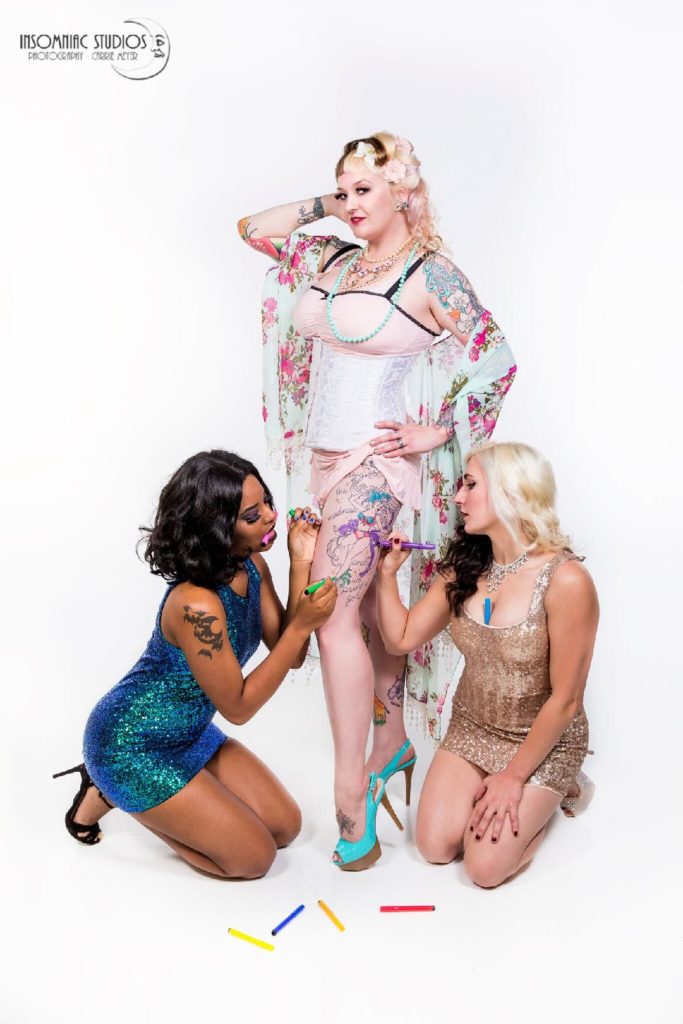 Cheery Blossom has been performing with the BonBons for just over 5 years. I have performed locally in the Beggars Carnival, Spectaculaire, Naughti Gras & Show me BF. Our troupe has performed in the Kansas City BF, Oklahoma City BF & we have a monthly local show at the Monocle. I help choreograph most of our group acts, but secretly I'm a die hard metal head. i am known as the hardcore sweetheart & the mosh pit princess. "the sweet contradiction with a heavy metal addiction." I love the shock value of heavy metal paired with a sassy dance style & clever comedic bits
If you're thirsty for something different, James has the quench. Combine three parts circus, two parts fire tamer, one part acrobat, and a dash of burlesque, shake vigorously for a balanced but bold cocktail called James Peligro!
A little virtue, a little vice; what she'll give you on stage is a roll of the dice! Sofie has been a professional burlesque and cabaret performer in St. Louis since 2013 and with her various troupes has appeared in two Show Me burlesque festivals, The St. Louis International Film Festival, The Kansas City Burlesque Festival and the International Queer Burlesque Festival in Colorado. Specializing in sing and strips and the drop splits, she brings her experience in theatre, film and dance together for a quirky burlesque ride where The Muny meets the East Side. Catch Sofie around town as a freelance artist at venues like The Crack Fox, Attitudes, Helium Comedy Club, or The Boom Boom Room and as an active member of The Kiss & Tells, The B-Team (of Burlesque), The Bungalow Bunnies and Immodest Proposal.
I have been pole dancing at Michelle Mynx Academy of Pole Dance for 7 years and have loved every minute of it. Pole dancing gives me life. One important thing I've learned is to embrace my weird. I'm much happier when I do. I'm going to share some of my flexy, sexy weirdness with everyone at this year's Naughti Gras and I can't wait! Violet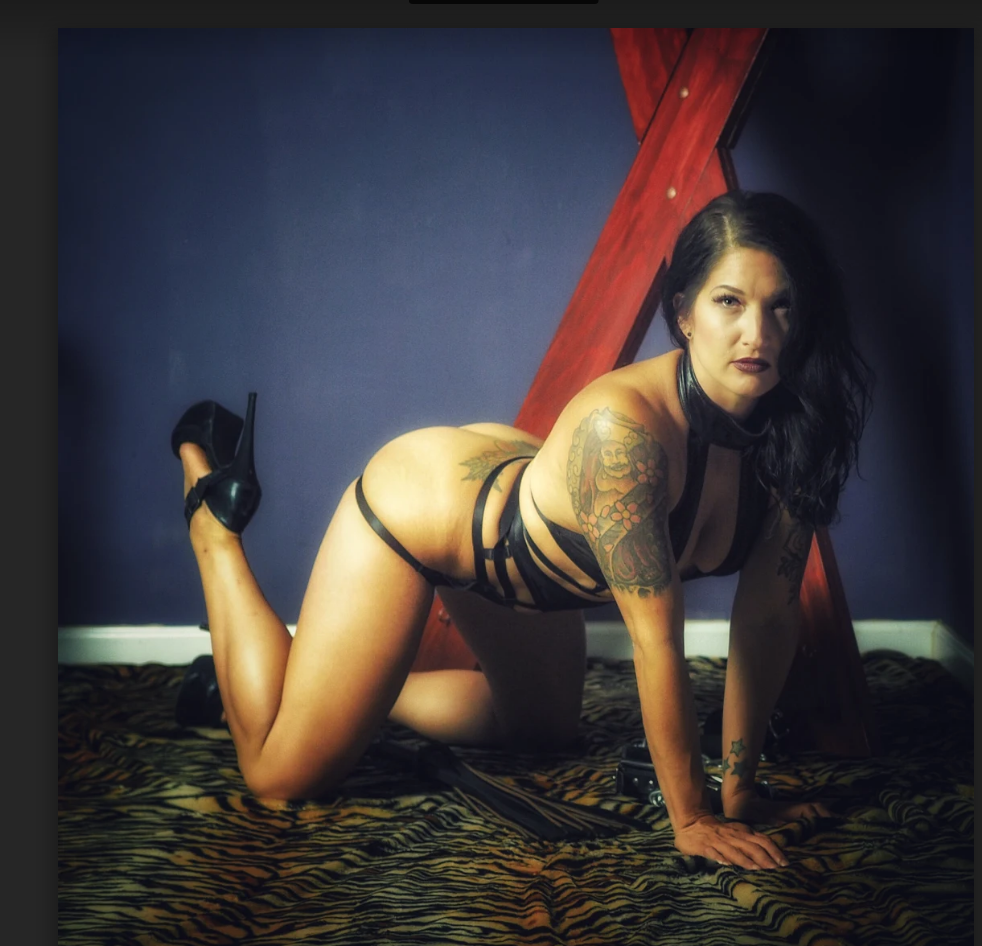 Meet BiBi Dazzle, the Dazzling Beauty from South St. Louie! This midwest maven got her burly start studying alongside some of St. Louis's best at Van Ella Studios. In 2011 she debuted her first solo number, ultimately earning a spot in Lola Van Ella's Bon Bons. Since then, Bibi has delighted audiences across the country, at The Oklahoma City, Kansas City, New Orleans, and Colorado Burlesque festivals, as well as being a veteran of her hometown's Show Me Burlesque Festival. Sensational and sensuous, salacious and sultry, this South City sister casts her spell with style, with charm, and with a healthy dose of swagger.
Shazza Dazzla's journey into the world of glitz began as an avid student and dedicated volunteer for the Van Ella Studios in St. Louis, MO. She boldly transitioned from student to performer, earning a place in the spectacular Bon Bons Burlesque Troupe. Now a seasoned traveling performer, Shazza continues to delight audiences with her special brand of spectacle. Now as an instructor at the newly reopened St. Louis school of Burlesque and Variety, Shazza has the privilege of guiding the next wave of burlesque stars. This "Barefoot Ballerina" is known for her lavish costume designs and lyrical choreography. She creates a narrative within her performances that captivate the audience and leave them wanting more. Her performances are a spectacle not to be missed!
It's the hell-bound hussy and satan themself, SAILEM! from St. Louis, Missouri (MISERY) Here to capture your soul and heart !

This devil had their start in January 2016 as a graduated student from Van Ella Studios. In the past few years, they've made several appearances- Travelled with the Van Ella Bordella show, performed with The Big Gay Soiree, The Show me burlesque festival, The Roux festival in New Orleans, performed and traveled with Jeezy's Juke Joint- and is NOW a producer of "The devil's cabaret" with drag and burlesque star Maxi Glamour, Also runs their brand new dance/strip-club party "FILTH". This fireball is a force to be reckoned with!
Rosy Glow discovered fire through her extensive background in bellydance. She began her fire performance career in 2007. Rosy dazzles audiences as a regular member in the St. Louis based fire troupe St. Louis Fire Technicians and performs at events and festivals across the midwest. Rosy is a multi prop madwoman her skills include; hoops, poi, fans, fire bellydance, most recently
double staves and of course fire eating. She is also a costume designer, mother, and owner of a small clothing business Mermaid Scout. A fierce, fiery and feminine force to be reckoned with.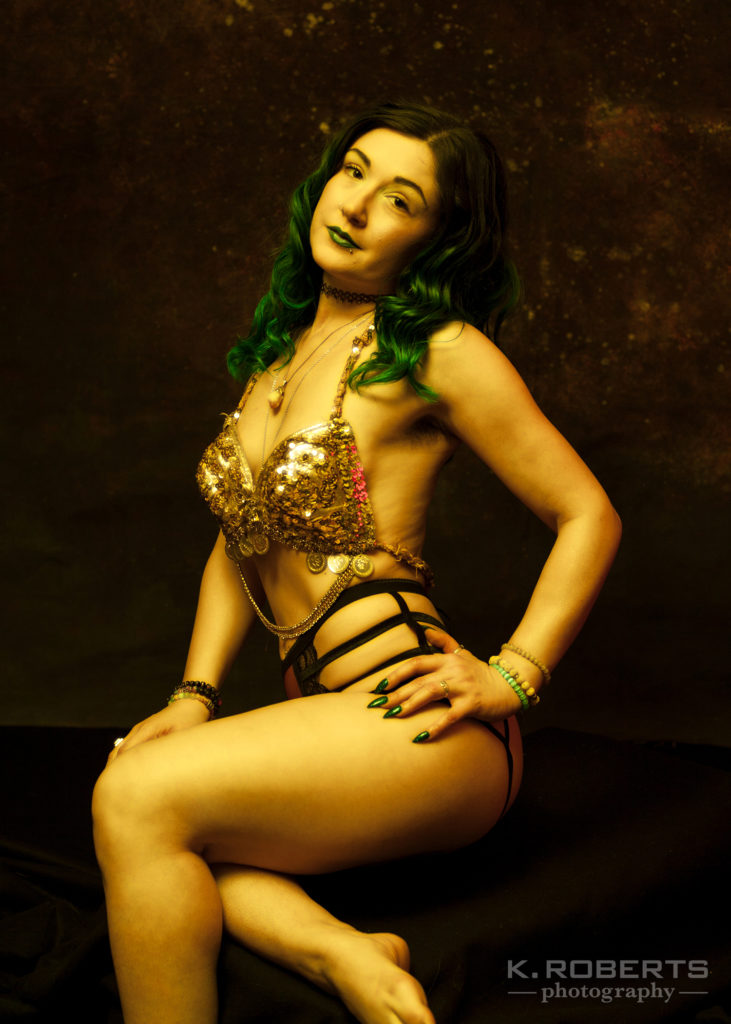 The bow-legged beauty from Saint Louie!
Blyre Cpanx (originally from St. Louis) lives full time on the road as a Burlesque, Sideshow, and variety performer!Known for her various characters and odd props, she's sure to bring the unexpected!
Grandma chair dancing, ass puppet theater, hoops, bed of nails, lego walking??She does it all! This character takes the whimsical and weird all over the nation (and beyond) in her silly clown van! She's the Dame With No Shame, Blyre Cpanx!