Doors open at 7:00 so get ready to get Naughti!
Door Open at 7:00 to get Naughti!
Immodest Proposal: Burlesque Troupe
Immodest Proposal is a St Louis burlesque/theater troupe that celerbrates all bodies, levels, and styles of movement. They are excited to make their Naughti Gras debut in 2022!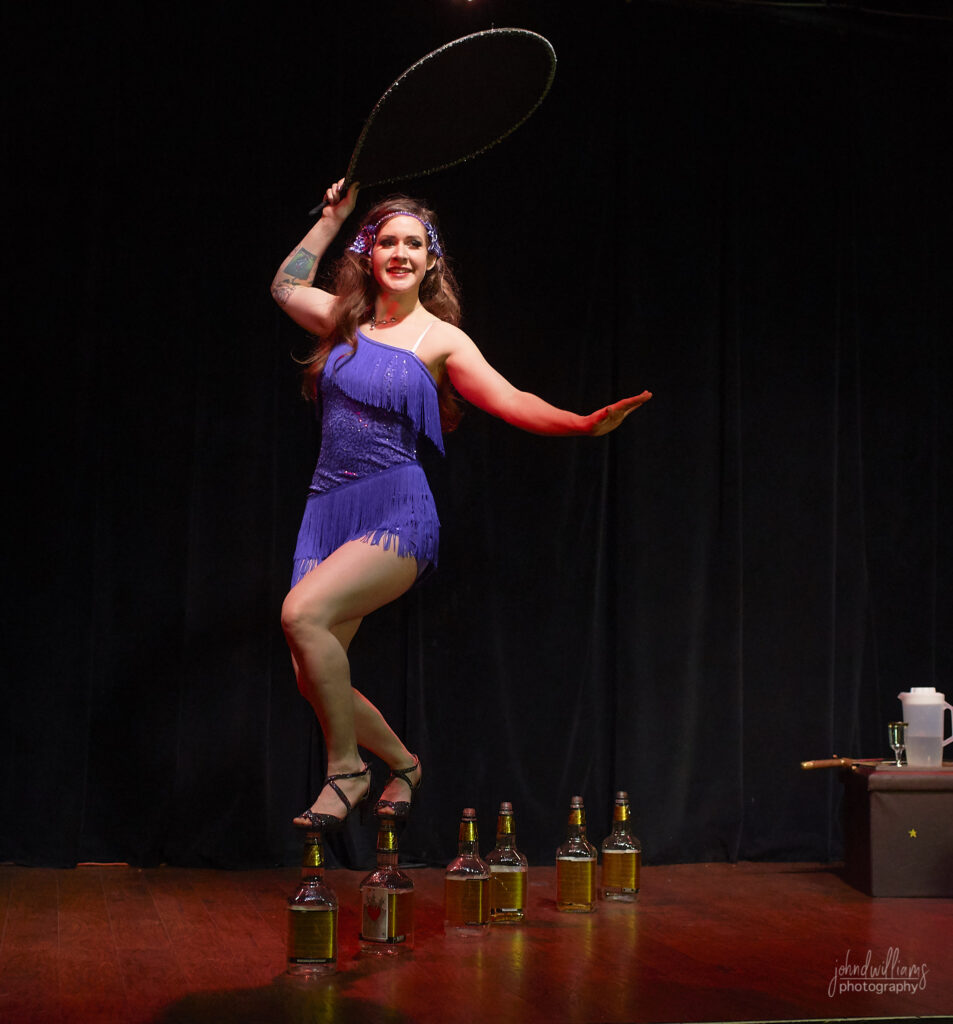 Zephyrina
Zephyrina the Ethereal is a tightrope walker, aerialist, and revivalist of obscure vaudeville, circus and side show traditions such as bottle walking and playing the musical saw. Her greatest wish is to dazzle and delight you, and make you say "wow! I didnt know that was possible!"
Layna D'Luna Burlesque
Layna D'Luna is an international award winning burlesque performer, and has been described as "the girl with the curves that'll send you over the moon!". This seductive tease from the south seas is a member of the world famous Jigglewatts Burlesque Revue, the producer of Vava Doom Productions (a metal burlesque revue) and The Texas Metalesque Festival in Austin, TX! In addition to burlesque, she is also a member of San Antonio based sideshow troupe Le Strange Sideshow. Your moonlit dream, Layna D'Luna."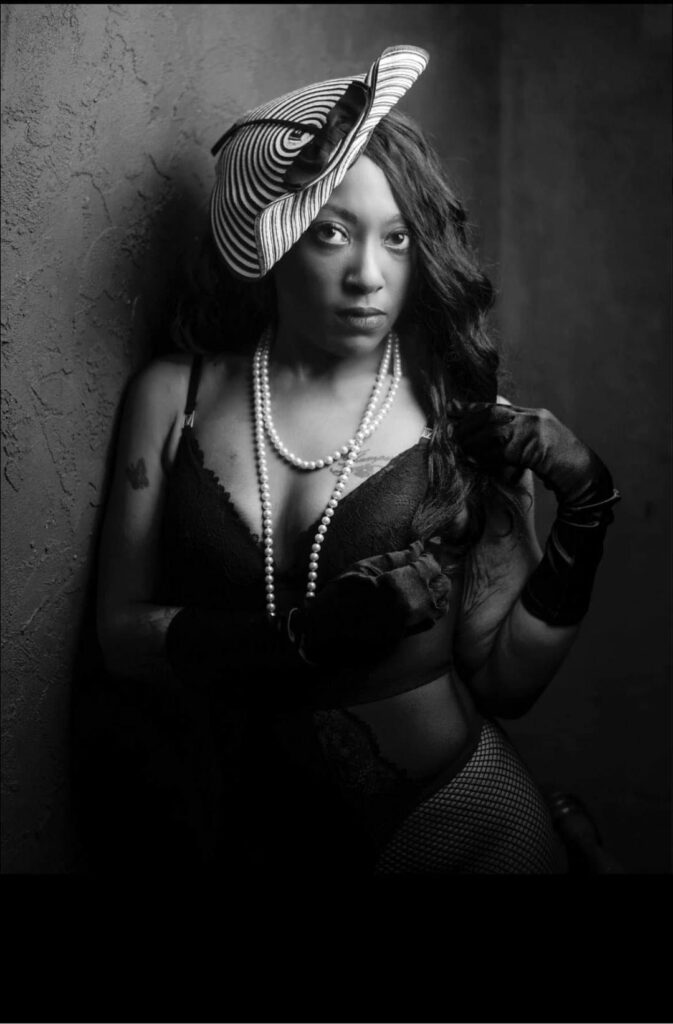 Josie Laveau: Burlesque
Hailing from New Orleans, Josie Laveau draws her inspiration from jazz and Old Hollywood. She's been gracing the stages in St Louis with her sexy sultry style since 2019. Truly the sweetest Bitch you'll ever meet, she's Josie Laveau "The Creole Goddess "
Justin Time: Burlesque
Someone whose specialty is his timing; this stud has been impregnating audiences all over the Midwest since his debut in 2016. Holding a bachelor's in sex appeal and a masters in saxophone performance, his musicality and smooth moves are no stranger to the stage. He's never too early, he's never too late, he's Justin Time.
Sofie de Sade: Burlesque
A little virtue, a little vice; what she'll give you on stage is a roll of the dice! Sofie has been a professional burlesque and cabaret performer in St. Louis since 2013 and with her various troupes has appeared in two ShowMe burlesque festivals, The St. Louis International Film Festival, The Kansas City Burlesque Festival and the International Queer Burlesque Festival in Colorado. Specializing in sing and strips and the drop splits, she brings her experience in theatre, film and dance together for a quirky burlesque ride where The Muny meets the East Side.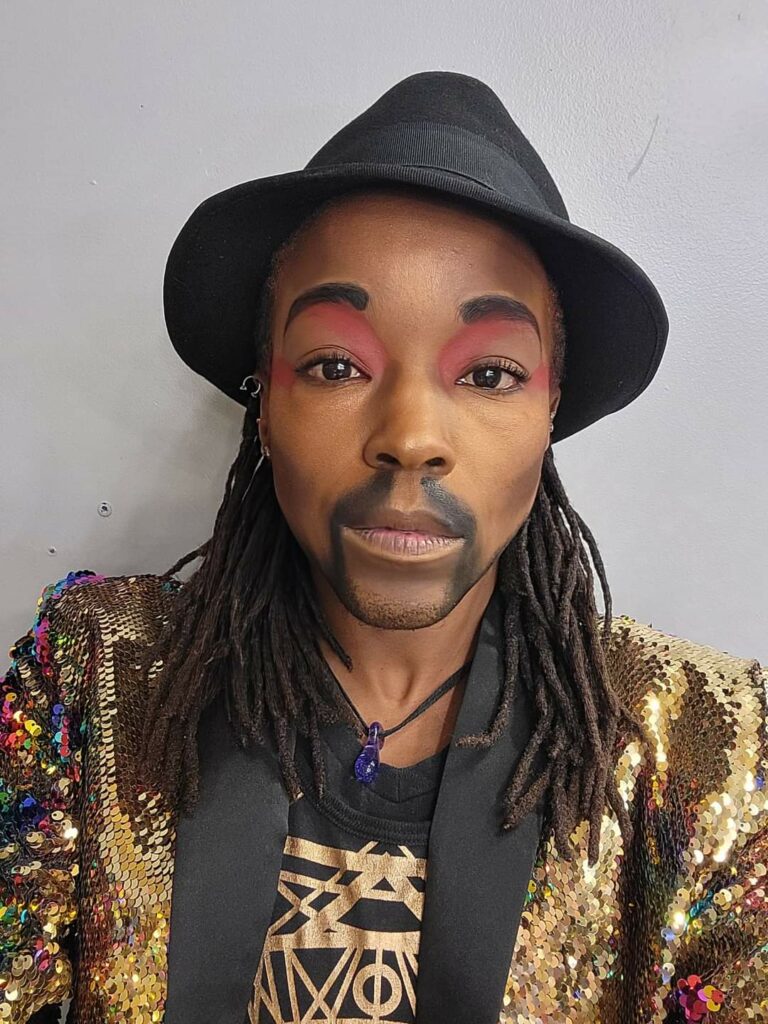 Justice Control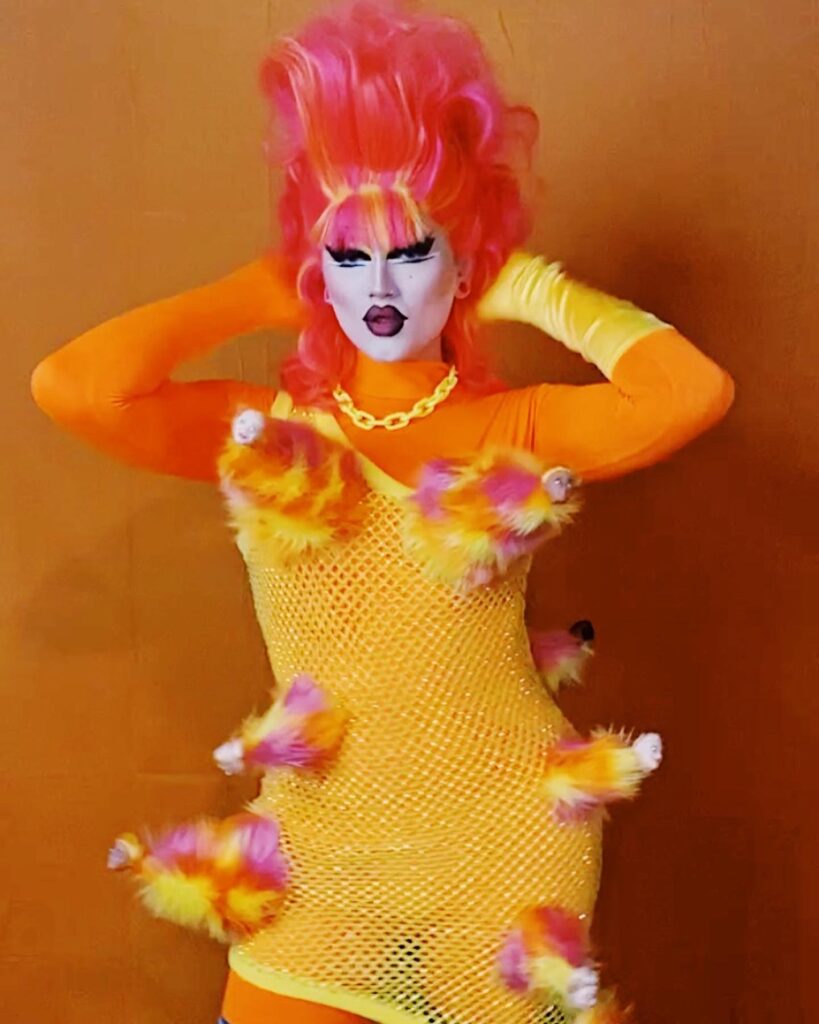 Chloe Curiosity: Drag
Chloe Curiosity is a local drag entertainer from STL. She's cute, she's campy, and welp… she's Chloe! This creative queen is here to turn looks, turn heads, and keep you all curious about what Chloe will do next!
Cadaver Daddy-O: Drag
Born and Raised in the bottom of a well, Cadaver Daddy-O was lured out one day with a bag of Taco Bell and the sound of Rock 'n' Roll. As one of St Louis' premiere spooky, goofy, genderfucky, drag things, Cadaver prides himself on being equal parts satanic and panic.
Chi Chi Buxuom: Burlesque
Chi Chi Buxuom started her burlesque journey at Lola Van Ella's burlesque studio in St. Louis, MO. From student to kitten to joining the home town troupe The BonBons she has now traveled from city to city shaking her stuff for the Buxom Blaze, Ohio, Kansas city and Show-Me burlesque festivals. From every rock n roll beat, to slow and seductive move, she's making sure the world knows every size is sexy. She the "Girl with the Bust and a Plus size Thurst"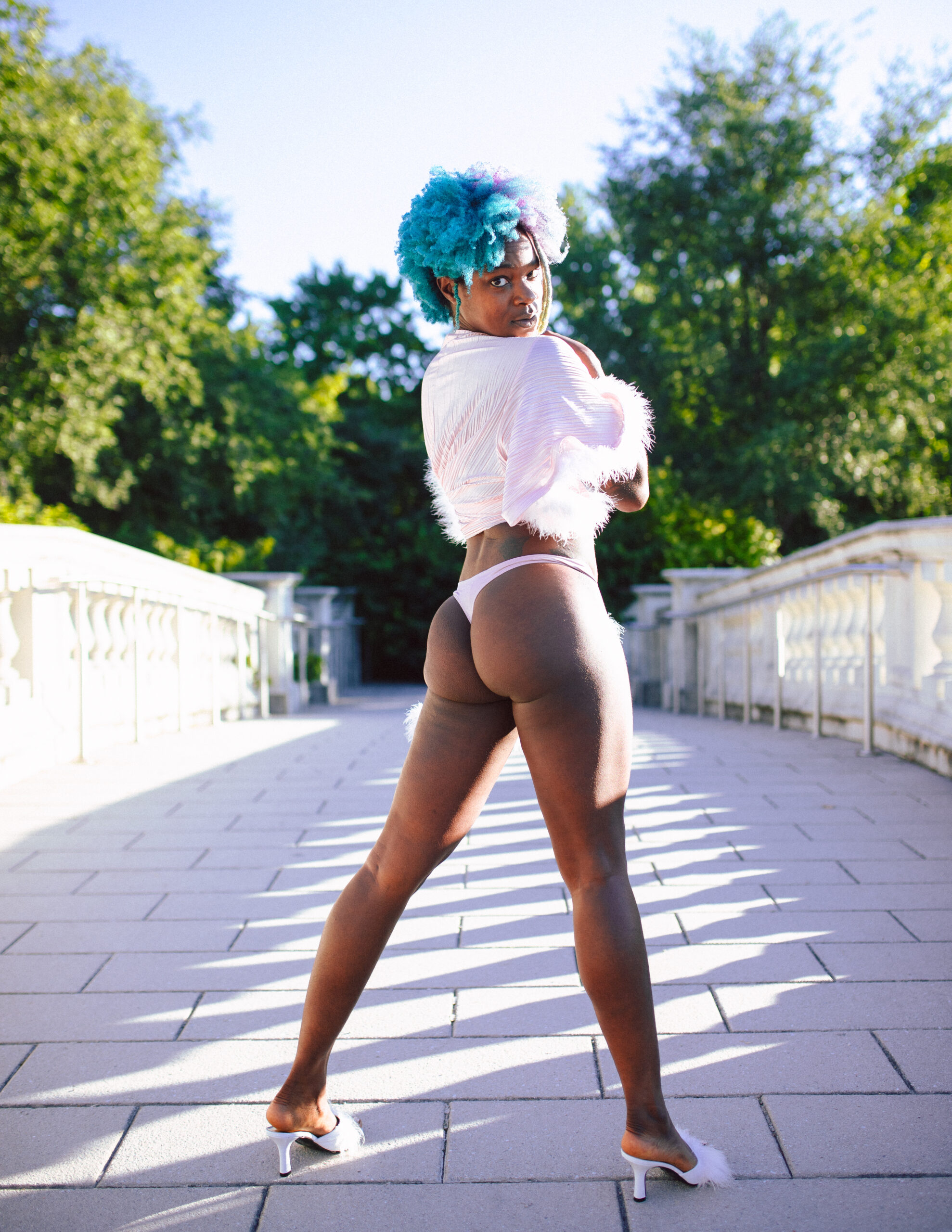 Hoopsie Dee: Pole
Hoopsie Dee is a St. Louis region born and raised multidisciplinary artist. Also a United States Navy veteran, she take those experiences, lessons, and core values of honor courage and commitment with me in different aspects of her life and art. While serving in the Navy, Dee took up hula hooping as a form of self-care and therapy, which later became a hobby turned into a profession. In 2015 she began her dance career in the local burlesque scene and have since taken my hula hoop acts to many stages across the STL region. An active community member, she also takes her talents to do work teaching hoop dance classes to kids and adults at the St. Louis School of Burlesque and Variety, teaching summer circus camp around town at our local parks, and throwing meetup events for roller skaters and flow artists.
Holley MissBehavin: Burlesque/ Artist
Naughti Gras holds a very special place in this performer's heart. It was here in 2018, that she decided to become a burlesque performer after watching a couple of her friends perform for the first time. Last year she not only performed, but also sold her booty artwork at Naughti Gras! Whether she's pummeling her audience with lollipops or twerking over a "fresh corpse" she murdered on stage, this performer is known for keeping her audience on their toes with her humorous hijinks.
Lavish Jules: Burlesque
This midwest minx gives you a little drag with her unique style of burlesque. Awarded the Master of Lip Sync of the Michigan Regional Burlypicks 2020 this Milwaukee native has been performing for 5 years as a member of the Brew City Bombshells & contemporary of the Cream City Cabaret as well Grindhouse Tease. In addition to performing she coproduces & cohosts Dripping in Melanin, a variety show series that spotlights African American performers. She'll prove to you that the most precious jewels are not made of stone but of flesh. The Lustrous Lavish Jules!
Stay tuned for much more to come …